I didn't realize how vital my sketchbook was to my work until it went missing. For years I have used my sketchbooks to record images and thoughts. It is my diary and my recipe book and my path. In my sketchbook there were fragments, small notes, sketches not realized, ideas to reflect upon, previously unrealized concepts which might provide the thread to a new group of work. Without my sketchbook, I felt lost.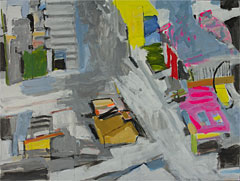 After some time, I needed a way back to a dialogue with my work and so I began making maps, mapping gave me a grid to explore my painting ideas in an abstract symbolist form. A map is what you use when you are lost.
When I am out of the country in Japan or Europe, I depend on a map, not only to get around, but to fix myself in a place.
I painted maps of corners and intersections and streets which were familiar to me and I began to live in those streets in the painting. I could have a conversation with myself about the place and my experiences there. As I continued with the maps I found that I felt free to experiment and try new things. The maps grew to landscapes and back to maps again. I could roam at will and map my trail; I found that I could leave out a lot of details and still keep the "map".
My maps are very personal. In the desert there are lots of mysteries and strange forms: physical and geological oddities,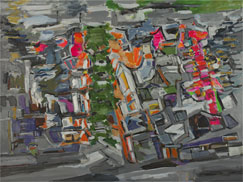 fireballs streaking across the sky and strange lights at night in the mountains. I painted what I like: the turquoise stones of the desert tribes and the swirling dust of a sudden storm, a thunderbolt in the distance. In Tokyo I know where the last public bath is: near the luxury street of Omotesando and the way to my favorite museum. Although the last traditional tea house hidden in trendy Harajuku has closed, I kept it in my painting. I painted a splendid trip to Kyoto with cherry blossoms and spring snow. It is a map of a place and the experiences there: the splendor of temples and shrines expressed by the excitement of neon color and the "zen" of grey and black.
It has been a wonderful experiment, this "mapping". It is not the first time I have painted views from above or cities or landscapes, but I feel a freedom now, maybe it is the loss of the sketchbook that forced me to find a new way.
Claire Chene 2012